If you don't have a website that contributes directly to your revenue through sales or leads, you're missing out on a huge potential market. In today's modern world not having a website or having a out dated one often causes a bad first impression with your potential clients, regardless of industry.
12 Billion searches per month…
occur in the United States, and more than 100 Billion globally.
78% of US consumers…
research products and services online and every major brand or business is represented with a website and a variety of social media accounts.
You need a website that represents your company well AND grows your business.
Since 2005, Thrive has created gorgeous, effective, custom-designed websites to our client's exacting specifications. So what can we deliver on?  Here are just a few of the objectives we can achieve when designing a website tailored to your business:
Custom web design that results in a site that is visually appealing, easy to use, optimized, converts visitors into consumers, is mobile-friendly, and encourages growth over time.
Mobile-friendly, responsive design. 60 percent of all Internet activity in the US originates from mobile devices, and about half of the total Internet traffic flows through mobile apps. We'll design a site for you that looks great in every screen size.
SEO Optimized website that is built from the start with a search in mind.
Clearly communicating your companies message with information on your products, services, and company culture.
Driving leads and attracting traffic via search engine optimization and using conversion centered design methodology and advanced user experience to drive your visitors to action
Clear calls to action, helping visitors get in touch and find you with contact info, locations, and driving directions.
Advanced functionality such as e-commerce, password protected content, forums, event registrations, etc. You name it, we can build it.
Blogging and content marketing through well-written web content helps build your brand and attract traffic. Companies that blog have 97% more inbound links, more social shares, and higher revenue.
The website we design is tailored to meet the online needs of your customers and we want you to be involved in the process! When you design a site with us, you will be involved with:
Direct communication with the web team to discuss the project including developing a strategy, design requirements, budget details, scope of work, schedule, etc. And for the convenience of our clients, our meetings are held using video conferencing.
Collaboration with an assigned Project Manager to review the web process, set expectations, answer any questions and ensure you are fully aware how your site will be built.
The approval process of your site's strategy, design, content, and launch.
The customized process to fit your needs. Of course, we know schedules can be hectic at times, so we can work with you whether you want to be thoroughly or only marginally involved.
---
5 Keys to Superior Web Design:
Our years of experience in building websites have taught us that to build a superior website for our clients that positions them above their competition, we need each of the following ingredients: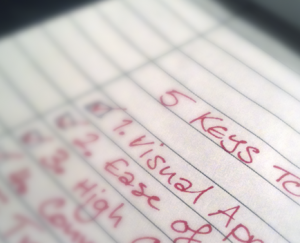 1. Visual Appeal
You only have one chance to make a great first impression. Are your site visitors saying WOW! or OW!? when do they see your site for the first time? People make immediate decisions about the credibility of your company, your brand or your products when they see your website.
2. Ease of Use
If your site can't be easily navigated and your valuable content can't be easily found, then your users will go elsewhere. We work hard to plan and build sites that are intuitive, simple and easy to navigate. We want our users to feel like everything is right where they expect it to be.
3. High Quality, Optimized Content
Investing in a beautiful site and neglecting the content is like buying a car without an engine. A superior web site has clear, compelling and concise content with clear calls to action. We work with our clients to make sure that the content on their site is well written, search engine optimized and created with the client's business objectives in mind.
4. Conversion of visitors into customers
Early on in the planning process, we will determine what a "conversion" or call to action looks like for your website. It could be to submit a lead form, make a phone call or purchase a product. We then keep that goal in mind for the entire process from design to coding to content writing. We want your website to be the primary tool for growth in your company.
5. Traffic growth over time
We want to see your new web site rise to the next level. To do that we need lots of quality traffic. We will work with you to establish an ongoing internet marketing plan that includes search engine optimization, social media marketing, email marketing and more.
---
We can create a website that exceeds your expectations and frames your business attractively while increasing your success. Check out our work to be sure! Explore your online potential with a free web design quote!
Ready to Get Started?
Call us at 800.416.3739 with any questions
A Web Design Company That Delivers
Exquisite is a full-service web design agency headquartered in Texas that provides affordable website design services to clients in Florida, South Carolina, Texas and throughout the United States.
Providing Web Design Services in Texas: Houston, San Antonio, Dallas, Austin, Fort Worth, El Paso, Arlington, Corpus Christi, Mansfield, Plano, Grand Prairie, Laredo and other areas across the state of Texas.
Providing Web Design Services in Florida: Orlando, Altamonte Springs, Clermont, Lake Mary, Maitland, Oviedo, Sanford, Winter Park and other areas across the state of Florida.
Providing Web Design Services in South Carolina: Columbia, Charleston, Greenville, Mount Pleasant, Myrtle Beach, North Charleston, Rock Hill and other areas across the state of South Carolina.